December 15, 2020
/
/
Comments Off

on Glen Melder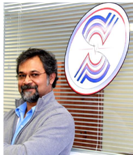 Glen Melder is the founder and Chief Executive Officer of Sensaras LLC, an innovative manufacturing company of Ultrasonic liquid level sensing systems.
Glen's unique industry knowledge was earned by being on the very forefront of the incipient and fast growing Ultrasonic technology industry. Early in his career he was introduced to the world of Ultrasonic level sensing by joining Sensall in 1986. His hard work enthusiasm did not go unnoticed: he worked his way up from being an assembler of electronic circuits in production, to welding and machining, and ultimately joined the engineering group in short period of time. He learned from the best in the industry the founders of Ultrasonic technology for liquid level sensing. Glen was exposed to all of the different types and facets of Ultrasonic technology and all the relating industries it served. After Sensall was sold Glen worked at Anorad for a brief period until his next place of employment.
Glen started with the next Ultrasonic sensor manufacturer from its conception in 1989 and grew with the company for over 25 years. He started as Production Manager where he worked simultaneously with the engineers designing products and implementing manufacturing procedures. He then moved on to be the Application Engineering Manager supporting sales. Glen continued to work with every aspect of manufacturing and engineering hand in hand with the customer's requirements creating cutting-edge designs. Glen's next career advancement was Manager of OEM Sales and Special Projects. In this position Customer Service was a priority. Glen's innovative designs revolutionized Ultrasonic sensors, earned him a number of patents, reduced manufacturing time, and increased reliability and functionality. By this time Glen was known in the industry for his responsiveness and service, becoming the face of the company. He was promoted to Chief Operating Officer and was involved in all operations of the company. Glen was put in charge of operations in New York when the company was sold and was in transition to relocate.
Not wanting to relocate and other reasons, Glen decided to work on a long time dream to start his own company. Sensaras LLC was incorporated in May 2013. Glen's knowledge, reputation, and straight forward ethics were the founding principles of Sensaras. He hired many of the key people who had lost their jobs and established an industry production system that is unique to Sensaras. With the same work ethic and principles has always employed, he designed and effectively implemented all processes within Sensaras product line. Now Sensaras offers over five hundred part-numbers of level sensors that are standard and customized across the Ultrasonic level sensing product lines. Glen has established relationships with some of the industry giants including the military and aerospace industries.
Read more about the start of Sensaras here!
Newsday: http://www.newsday.com/business/hauppauge-exec-goes-from-layoff-to-startup-1.6321172  
Long Island Business News: https://www.highbeam.com/doc/1P2-35399478.html